It took me a long time to find a top coat I was happy with. That top coat is American Classics In a Hurry Air Dry Topcoat. You can find this at Sally's Beauty and it retails around $5.00.I have gone through bottle after bottle of this without disappointment. This dries extremely quickly which is one of its best features if you're like me and have a tendency to be impatient and mess up your nails right away. This also leaves the glossiest of sheens, making your nails look professional done. Third, this extends the life of your nail polish.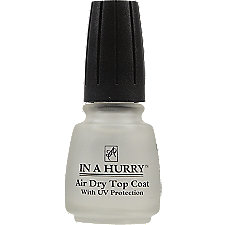 VERSUS
I had also been hearing a lot about Seche Vite top coat, which is a cult classic top coat. This can also be found at Sally's Beauty and some Walgreens. It retails for $8 at Sally's. I used both the base coat and the top coat. I paired these two top coats against each other to put them to the ultimate test. I did a trial with high end and low end nail polish over the span of a month. Here are the pictures from just one of the trials. I did at least three trials lasting between 4 days to a week each.
Here are the results:
Left: Seche Vite, Right: American Classics
Purple polish is Babor Ultimate Performance Nail color #19 Aubergine, $13
These look nearly identical when applied
After 3-4 days, I had chips on both hands, about equal
I'm anal about my nails chipping, so I usually repaint my nails every 2 to 3 days, but these will both last a few days without major chipping.
These both have the high gloss shine finish
Seche dried maybe a negligible amount quicker than American Classics
I asked Justina if one hand looked better than the other and if she could tell which top coat was which (she has used both top coats) and she could not tell
I have also used American Classics yellow stopper top coat when my nails have shown a yellowing color due to overdoing it with dark polishes, advanced nail gel coat, and growth spurt treatment.
Seche retails $7.99 at Sally's v. American Classics $5.39 with Sally's card. Online Seche seems to retail around $4, but that would likely be with shipping on top from retailers like Amazon.
Seche Ingredients & Warning:
Ingredients:
Butyl Acetate , Toluene , Cellulose Acetate Butyrate , Isopropyl Alcohol , Trimethyl Pentanyl Diisobutyrate
This product contains a chemical known to the state of California to cause birth defects or other reproductive harm.
Note on Seche base coat: It may just be from overdoing it on my nails, but my nail beds look absolutely horrible. They have actually never looked worse. I had to work for at least an hour yesterday with my manicure kit and buffer to get them looking like they weren't going to break right off. The only thing different I had really been doing was using the Seche base coat. Although I did use a non acetone nail polish remover from Sally's that was new. I doubt it would be the remover as it was non acetone and safe for natural nails
BABOR nail polish review:
I absolutely love this color, Aubergine. It has that multi faceted look where it can appear a slightly different color in different lights. I was surprised by the shine that this polish had all on its own. This polish was easy to apply, long lasting, and has a high shine. The only thing is $13 is expensive for a small bottle of polish, but sometimes you really do get what you pay for when you have a nail polish that is going to last and have a high gloss shine all on its own. This also does not include toluene or formaldehyde which is another great feature. As noted above, I did the Seche and American Classics trial on a variety of polishes, this is just pictures from one trial using the Babor polish which is great as a stand alone as well.
BABOR with Seche topcoat
These are very comparable products and I don't think you can go wrong with either. I would pick up whichever one is cheapest at your local store since I could barely tell a difference. I may be sticking with American Classics because I've loved all their products and although I wasn't able to find an ingredients list (and I'm sure they likely use the same chemicals that Seche does), Seche's warning creeps me out a bit and so I will probably stick with my go to fave for years:

American Classics In a Hurry Air Dry Top Coat.
Note: I did look up the Seche warning and found some information that basically you would pretty much have to be drinking the stuff to have any ill effects from the chemicals used. I couldn't find a lot of information on it however.