Eco Tools Limited Edition beautiful expressions kabuki set & a Mini Brush 101
soft, cruelty free bristles & recycled aluminum handles
So I've been seeing these on some other blogs and dying of jealousy. Eco tools are my favorite brand of brush that you can buy at a drugstore. These brushes are incredibly soft, they work amazing, there is no shedding or loss of bristles, they are eco friendly and have the cutest packaging. If you are just starting to get into brushes and makeup, I would highly suggest trying these out first. I'm not the type of person that believes spending $25-$250+ on one brush is worth it. These were $14.99. But using a good makeup brush can make a ton of difference on how your makeup goes on and looks.
So I was SUPER excited when I finally saw these at a Walgreens around where my parents live. The stores in the town I live in pretty much suck and we never get any of the good stuff in. These are limited edition too so I was very excited to pick these up today.
This is a set of four and comes with 1) Conceal 2) Bronze 3) Contour 4) Buff.
What to look for in a brush:
Test how the bristles feel. You want a soft bristle for many types of brushes. My skin is very sensitive, so the softer the better for me, although there will be some brushes where you want a stiffer bristle. Look at how it is attached to the handle and if it is sturdy. Does it look like some of the bristles will easily come out? Tug on a few of them. Even in drugstores, many of the brushes are on display so you can actually touch them. If its the design that you like, you can look up some more expensive brushes and try to find a dupe for the shape.
The Deal on Brushes:
You will often hear Sigma and MAC as some of the best brushes. But do you think these companies separately manufacture their brushes through their own company? No! There are certain manufacturers, many in China, that make these brushes. Its not like Sigma has its own brush making factory. I know there are some amazing high end brushes out there, but a lot of the time you are basically handing over $20 to a company to stamp their brand on a handle.
We all like pretty packaging and handles too, but sometimes with the higher end brushes or even just brushes with intricate handles, you are paying for the handle. I've actually seen one with what looks like glass blown handles. Very pretty, but I'm sure I'm paying for that and I didn't buy a brush just to display a pretty handle. If you are confident in your makeup abilities, you can also try artist's brushes. These will work but may be harder to manuever since the handles aren't made for this purpose.
You can buy synthetic brushes or brushes made out of animal hair. Ecotools are synthetic, cruelty free taklon bristles. Brushes are going to be mainly made from the hair of the follow animals: ponies, weasels, goats, squirrels, sable and badger. I feel bad for that squirrel running around without his bushy tail :( I think I'll stick with my ecotools cruelty free synthetic brushes for now. These do feel like real hair, they don't feel synthetic at all. I don't know, maybe you guys have a preference in what animal hair you like to swash around your face, but the quality of the hair of these different animals can't be that different!?!
How to take care of your brushes:
Since bacteria can grow on brushes, you want to wash them frequently. An easy way to do this is to use Johnson & Johnson baby shampoo and lightly shampoo them. Try not to get the area where the bristles and the handle meet because this is where the glue is. If you get this area wet a lot, then the glue is going to start to dissolve and you will loose brushes. Cleaning brushes when done right will actually expand their life.
Keep these in a clean dry place. It may sound kind of gross, but if you have these sitting in a holder or vase by the toilet, they can actually get bacteria and germs on them from ummmm...toilet activities. The same goes for toothbrushes. So keep these puppies away from the potty!
I use this professional brush cleaner from Sally's Beauty (Face Secrets). It is so easy to use. I pour a little bit into a dish and you swirl the brush in the liquid for 10-15 seconds and then I lay it flat to dry. Do not use the brushes until they are completely dry. For some reason cleaning your brushes is something that makes you feel super accomplished and you get that great clean feeling. Think of what you are putting on your face otherwise. I bet you wouldn't put anything else germy and bacteria ridden near your face, eyes, or mouth.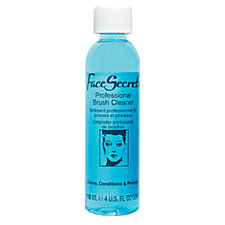 You can use this on synthetic or natural bristles.
I am in the process of reviewing these. I LOVE the bag. It is so easy to pack on the go. My first impression is it is a very good deal for the price ($25 for 10 piece set), the bristles aren't as soft as Ecotools, but a very good overall quality. I will review these more as I have used them more. Kirkland is a brand you can find at COSTCO.
Other cheaper brushes I recommend are Elf. I have the Elf "C" Eyeshadow brush and contour brush both from the studio line which is $3. The contour brush is wonderful. I use it nearly every day. These are also synthetic taklon. I use this to add depth to the lash line and the outer corner of my eye. This is a handy brush to easily pick up a lot of color.
Contour brush
Bonus Buy:
Seriously Revlon, you are killing me! I just walked into Walgreens and there was an entire new display of new nail polish shades. I already own a ton of Revlon brand polish and they are my absolute fave drug store brand. Their colors are amazing, long lasting, and they don't carry dupes of their own line like OPI often does! I love all the colors I've ever bought from them. I've only had to throw 1 very well used polish out because it got clumpy and I'm sure it was one of my older ones. They even have a scented line and you can smell like cherries or the beach! So fun!
Here is the color I picked up and just in time for Christmas!!! This is 650 Saucy.
I am in the process of working on swatching my Revlon collection so look for my prior blog posts on Revlon series for ones already done. I'll have to add this one to the list now too! :)
Happy Holidays! I'm very glad to be home except for the fact that I'm not allowed to watch the Kardashians without my dad storming off because they have no talent. I figured they wouldn't let me watch Real housewives either then. Geesh!
:) Jessica