The appearance of glowing skin is easy if you follow this 5 Step Product Guide. These are all pictures of the finished look.
Here are the five steps: Foundation, Powders, Highlighter, Neutral Eye and Rose lips. See below for instructions and products used. All products used are ones I highly recommend.
Step One: Foundation. Apply a foundation that is the closest to your natural skin tone. I applied with my fingers to get an even application. I used Estee Lauder Foundation. I also like Rimmel Clean Finish and Lasting Finish.
Step Two: Powders. Apply a finishing powder over your foundation to set your foundation. My favorite is Palladio Rice Powder that can be found at Sally's Beauty Supply. I applied this with a Kabuki Brush. I then applied Physician's Formula Mineral Glow Powder in Translucent which works on all skin tones. I applied this all over for a nice shimmer and highlight. I applied a bareMinerals blush in Precious Pearl. This is a silky berry color which brightens your face and defines your features. Apply blush on the apples of your cheeks and brush outward to your hair line. An easy way to find the apples of your cheeks is to smile.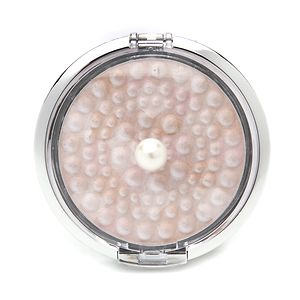 Physician's Formula.
Step Three: Highlighter: Apply a highlighter color in the "Power V" area of your face. This is right above the outer edge of your eyebrow down to your cheek bone, making a V. I used Benefit's Watts up. I highly recommend that product along with Benefit's Moon Beam, High Beam, and The Balm's Mary Lou Luminizer.
Step Four: Neutral Eye. On my eye lid, I applied Urban Decay Primer Potion in Sin. I used this as a stand alone color. I would also recommend Benefit's RSVP Creaseless Cream Shadow. I like applying a cream shadow for this look. This is a champagne shimmer and the color is UD's best seller.
Step Five: Rose lip-gloss. I applied bareMinerals lip gloss in Cassis which is a golden rose lip gloss.
And there you go! Five Steps to Glowing Skin! These are the only products used and steps followed as shown in the photos above. No other makeup is worn.
**Below, I have created a bonus look to bring this look easily from day to night.**
Step One: I applied a pink color to my lid. I used Urban Decay Woodstock. I am loving this color and my pink lid look. Pinks mix really well with green eyes to make them pop.
Step Two: I used a purple shade from my Stila Glitz and Glam Palette in the crease. I used a dark purple Clinique shade in the outer V are of the eye and blended in. This seems to have gone missing right now, so I will update the color when I find it. I applied the lighter champagne color in the palette into the inner V area of my eye and up to the brow for a highlight color.
Step Three: I applied NYC Liquid Black liner to the top lash line and Make Up Forever Aqua Eyes liner in black to the bottom lash line. I brought the pink color down with an eye pencil brush and lined my lower lash line with the pink color and made sure to do some pink in the outer V area of my eye as well.
Step Four: Apply black mascara. I used Tarte lights, camera, lashes, and am loving this for its lengthening and voluminizing effect.
Step Five: Apply a neutral lip. My favorite is Maybelline's Color Sensation in Born With It. I wear this color all the time.
Step Six: Let your hair down and get your butt out on the town!
Yours in Beauty,
Jessica