What's more beautiful than Johnny Depp?
Well...nothing. But, a close second would be the amazing Pirates of the Caribbean OPI Collection!!! (P.S. Johnny, if you're reading this, call me! I still love you more than nail polish!
While perusing the internet and totally loving on my amazing OPI dupes, I stumbled upon something that was very, um....fishy.
Look familiar, anybody? These Sinful Colors beauties are total dupes for the OPI shades. Could they be any more obvious? They're practically BEGGING us to save $6.50 a bottle by labeling themselves "Adventure Island."
Another look: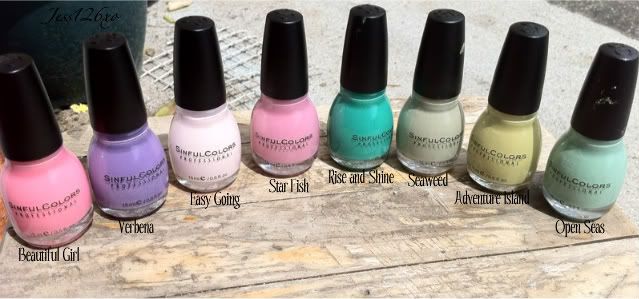 Thank you Sinful Colors for helping us save money on our favorite nail polish shades and stay beautiful and on-trend all at the same time!
More OPI Dupes for some of your favorite limited edition shades!
OPI Skull and Glossbones
Ugh...this is the only one I couldn't find a CHEAPER dupe for, even the Sinful Colors line didn't dupe this shade. It is kind of a medium, putty gray color.
But...Deborah Lippmann has a pretty good more expensive dupe of this color and it is called
"Waking up in Vegas"
EDIT
I did it! I did it! I actually found the most amazing ever dupe that is low price! Check it out!!!
Dupe= China Glaze in Pelican Gray
OPI Stranger Tides
Dupe= Sinful Colors in Seaweed
Dupe= Sinful Colors Verbena
And lastly.....Dum dah dah daaaaaahhhhh!!!!!!
Dupe= Sally Hansen Fractured Foil
Check out how similar they are in this picture! Photo credit goes to www.ie-beau-ideal.blogspot.com. Please check out this blog to see what other awesome beauty gems they might have to offer. Thanks Beau-Ideal for showing us how similar these two shades are!
Personally, I'm behind the times and have never tried crackle nail polish! Jessica is a huge fan of it, and I plan on jumping on the bandwagon soon, for sure. She tells me all about painting her nails these wild and bright funky colors, and once they start chipping, rather than redoing her nails, she will paint a layer of crackle over. How brilliant is that!
I was researching some fun crackle nail looks, and found this look where they layered a silver crackle polish over a metallic gold polish, then topped off with huge round gold glitter pieces in a clear polish base. How totally creative! I can't wait to try this look out....for the holidays maybe?
This is just the nail look I'm looking for to top off my look from my "
I am Woman
" post or from the "
Great Gatsby
" post. Check them out and you'll totally see what I mean!
Call me selfish and crazy, but I am totally going to ask for ALL of the Pirates of the Caribbean dupes for Christmas this year. If I were to buy them at full price, I would be purchasing 7 shades @ $8.50 each. That would set me back about $60. If I were to purchase the 6 Sinful Colors dupes, I would be set back $1.99 each for the 6, which would be about $12. Sally Hansen's nail polish prices vary upon location, but assuming it ran about $6, which would be on the high end for a drug store polish, that would bring our grand dupe total up to $20.
Yes, please! I'm loving these great shades!
Tell us, do you love seeing the dupes of the expensive shades, or would you rather see more high end nail polish?
Yours in Beauty,
Justina and Jessica