We have been loving all the Snow White looks out there from movies and tv shows this season, so we have decided to start a Snow White series of sorts. Check out our first Snow White look
here.
On this blog, we will be recreating two looks from ABC's new hit show, Once Upon a Time. The first look with be the wedding look.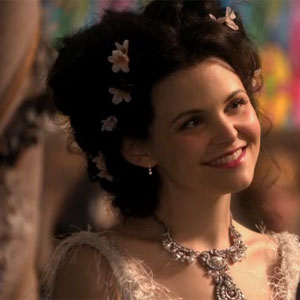 The back of this look was kind of just the result of me rolling up the back of my hair and clipping it together. If I had some help, I could have hid the claw clips better, or I could have used bobby pins.
Obviously, this look is way more dramatic and flowery than most people would be into for their wedding or for a dress up occasion. Fun for Halloween? Maybe I'll try for next year!
The Look:
Accessories:
Wedding dress if you have one, but I am wearing a gray tank top from Express.
Vintage Necklace and short drop earrings
(both from www.funkonrose.com)
Minimal coverage natural looking makeup:
Estee Lauder Idealist Pore Minimizing Skin Refinisher
Bare Minerals Original SPF 15 Foundation in Fairly Medium
Bare Minerals Illuminating Mineral Veil
Maybelline Instant Age Rewind Eraser for Dark Circles
Cheeks:
e.l.f. Countouring Blush and Bronzing Powder (I only used the shade on the left)
Eyes:
Benefit's Creaseless Cream Eyeshadow in RSVP
Estee Lauder Pure Color Eyeshadow Duo-
Honey Drop on the entire lid, Copper Penny in the crease
Benefit's Velvet Eyeshadow in Where There's Smoke- in outer V of eye
Clinique Cream Shaper Eyeliner for Eyes in Chocolate Lustre- used to line eyes and line eyebrows
Mary Kay Liquid Eyeliner in Black- used to line on top
L'Oreal Voluminous Carbon Black Mascara
Lips:
Clinique Almost Lipstick in Black Honey
Maybelline Color Sensational Lipgloss in Sparkling Grape
For Hair:
Use heat protectant, dry shampoo at the roots for some texture, teasing comb, and any aerosol hairspray. I also used bobby pins and some very small claw clips, as well as a few fake flowers picked out of my fake house plant.
Second Snow white look from ABC's Once Upon a Time:
I kept my makeup exactly the same as for the wedding, and took my necklace off. If I were to get really into it, I could buy some extensions to put in, which is really the only way you're going to be able to totally dupe her look. You can get a closely inspired look by curling your hair and parting it down the middle.
Here is my attempt to recreate her look as seen in this picture!
How did I recreate this look? Simple...I just took my hair down and tousled it a little bit. It's kind of a messy/wavy type look at so it was already perfect the second I took it down from the up do!
Now here are some close ups of the makeup!
I couldn't choose which picture to do, now that I got my high definition in working order. Sorry for all the repeats!
I'm sure we all want to look like Ginnifer Goodwin as Snow White above, but we may even do a wicked queen inspired look! So stay tuned!